Urbex FAQ's
FAQ's
I get several emails a week from my website, mainly about access and security, so I've decided to write an FAQ encompassing the most common questions. I am no way claiming to be an Urbex guru, nor is this section an exhaustive guide to Urbex. It should simply be treated as a set of tips and tricks that I don't mind sharing.

1. What is Urban Exploration?
2. Finding Sites
2.1 Asking for accss
3. Legalities
4. What to take:
4.1. What not to take
5. Access:
5.1. Getting in
5.2. Fences:
5.3. Chain link
5.4. Barb wire
5.5. Razor Wire
5.6. Palisade Fence
5.7. Electric fence
6. Security Guards
6.1. Security Dogs
6.2. Dealing with Security Guards
7. Dangers:
7.1 Asbestos / Lead paint / Anthrax
7.2 Poop
7.3 Floors / ladders
7.4 Undesirables
7.5 Cuts, burns, etc.
7.6 Falling from Height
8. Draining
9. Taking Souvenirs
10. Who to take with you:
10.1 Group Size
10.2 Age
10.3 Etiquette
10.4 Fear
11.0 Europe
11.1 Costs
11.2 What to take
11.3 Law
11.4 Posting European reports
12.0 Balance
13.0 Mapping
15.0 Urbex Humour
15.1 You know you're an urbexer when...
15.2 Urbex Car games
16.0 Glossary
1. What is Urban Exploration?
It is the exploration, and documentation of areas generally considered 'off limits' to the general public. Often these are derelict buildings, but often include live sites such as drain, or cranes.
Our one creed is:
"Take nothing but photographs, leave nothing but footprints"
2. Great, where do I go?
Half the fun is finding the sites; that's what makes us explorers. It really is a geeky hobby, and many hours of research go into finding sites. i.e.
Just walking / driving around
Looking at new maps! – Look especially for the magical disused symbol (dis.)
Talking to locals, especially the older ones.
Local news – look for "Firefighters were called to part of an abandoned factory..." or "Nursing home due to close after 35 years..."
Estate Agents – Often sell derelict plots with outline planning permission to develop them
Books such as "(your town) at war" will often talk about local structures
Local history groups / societies
Other Photography websites / forums (e.g. TalkPhotography)
Companies house website - I.e. which local business have recently stopped trading?
Wikipedia - I.e. homes of historical wealthy families, do they still exist
Buildings at Risk register
Planning applications – all of these are now online from your local councils website, in the planning section. They're fantastic as they will often included detailed surveys, as well as proposed drawings.
Google - If you really must.
2.1 Asking for access
Big Taboo, don't just assume you can ask. It's a bit cheeky isn't it? To us it just reads as:
"Hi, I know you don't know me but, you know all that research you done, and nights you spent in the cold rain watching security, all those mornings you went to work early just so you could drive past and see if a panel was missing yet? Well can you just sum up all of that information so me and my mates can go do a music video there?"
I always try and reply (politely) to 100% of my emails, but mails like this to any explorer wont get you anywhere. Half the fun is in the
exploring
remember? The sense of satisfaction you'll get will be so much greater, trust me.
Besides, how do we know you're not security posing as an urbexer so you know where to seal next? Or a landowner after that admission of guilt ready to serve a county court judgement? Exactly.
3. Is it illegal?
No, but....It's a grey area.
We do not break in anywhere
(see below) however we do trespass. Trespass is a civil offence in England and Wales, not criminal, therefore you can't be arrested for it. Fact. However, the owner of the property may send you a solicitor's letter, and summon you to court to sue you. If you have caused no damage, then the only thing you can realistically be sued for is 'loss of earnings', which on a derelict site is pretty hard to justify. In Scotland there isn't even such a law as trespass, so go for it.
So, then you just break in and take pictures?
No, no we do not.
An urban explore never breaks into anywhere.
I will go into 'Access' below, I just thought I should make this clear from the start.
It's probably worth mentioning there are still a few 'no go' areas:
Any other live governmental facility
If you get caught in any of these, it's likely that you will be arrested, and held for the maximum time under the Terrorism Act. So don't even try them.
Military Radar Facility: Note the aerials. Note the entrance to the underground bunkers. Note that they forgot to close the gate...
4.What do I need to take:
You don't
need
anything, but I find the following helpful:
Sturdy footwear:
Choose wisely. You want something that will protect you from the odd needle, rusty nail, or shard of glass. However you want something that allows you to feel what's beneath your foot, so you can feel that twig under tension before it breaks loudly, letting everyone know where you are. You can also feel the give in a rotten floorboard before you trust your weight to it.
What I usually take on an explore. It looks a lot, but easily fits in a camera bag
Camera:
This can range from a camera phone, to a full on DSLR with different lenses. Not essential, but most people are into the hobby to document the places we visit, but some people just go for the experience. You will probably need a camera bag too then before you take your £2k camera into a dust filled damp building. It's down to preference, but I prefer the backpack style over the hip mounted ones for greater freedom.
You will also want to bring spare batteries, a remote release for long exposures, and spare memory cards. A 16GB card will hold around 4,000 images, but this level of commitment scares me. Using smaller cards and changing them regularly can be a good thing, on many occasions I have palmed a blank memory card to show the authorities "that I've deleted all of my photos". No one can make you delete your photo's, not even the police, especially not security guards. They often know that. You know that. But they don't know that you know that. They also don't know you've just palmed a blank one in. Deleting photographs is a criminal offence, It's destroying possible evidence (criminal damage, and perverting the course of justice).
Tripod:
A tripod is a double edged sword, it will enable you to take some amazing long exposures but will severely restrict your speed and movement through small holes. If you're not sure I'd recommend the micro tripods, about 3 inches tall, they fit into pockets.
Taken with a micro-tripod on the floor, deep under the Ukraine, 8 Sec exposure:
Torch:
Even more essential than a camera. Some people feel the need to bring a 5million candlepower search light, others opt for more ninja LED Cree torches. Almost all derelict places are badly lit, and a decent torch will soon become your best friend. Some people prefer head torches to leave their hands free, although personally I've never got on with these. Always bring spare batteries. If you're going draining take two torches, both with spare batteries. A working musician once said to me
"To have one of something is to have none of something, to have two of something is to have one of something."
Mobile Phone:
It could save your life. But it could also drop out of your pocket, or ring wildly just as security is passing you. Put it on silent and zip it in.
Combat Trousers:
The more pockets the better. Go for the heavy cotton type, not the noisy nylon ones.
Food / water:
If it's a big site and you're going to be there a while, why not treat yourself. There's nothing like dining on top of a water tower 200ft above the surrounding landscape. Avoid caffeine as it's a diuretic and you'll need to wee, and avoid alcohol for obvious reasons.
Alcohol rub:
Even if your hands manage to avoid the rats urine, dust, pigeon excrement, asbestos powder, and lead paint, it's always nice to have clean hands to eat. If your hands do become overly filthy it's worth cleaning them to avoid leaving palm prints on doors etc.
First Aid kit:
Just a little one, for cuts / bruises etc. If you lose a hand you'll probably prefer to go to a hospital than to let your mate try and stitch it on because he has the kit to do so.
Walkie talkies:
Helpful if you decided to split up, but can be overly noisy with interference, and call beeps etc. Almost useless underground.
Anything else in terms of night vision, grappling hooks, ropes / climbing gear probably isn't
really
necessary.
4.1 What not to take:
Please, please, please, do not take anything like:
Markers, spraycans, screwdrivers, pliers, lock picks, crow bars, drugs, etc.
If you're caught you won't be trespassing you'll be immediately assumed to be a burglar, and will almost certainly be charged with 'going equipped'. You'll be sent to jail, and one day in the showers you'll drop the soap...
This might sound basic, but do you know exactly what's in your rucksack right now? When was the last time you took everything out? It's worth a thorough check, just to make sure you don't have any of the above before you leave the house.
5.Access
5.1.Getting in:
We will only enter a site or building if there is a way in that avoids any damage, no matter how small. We respect and care for the buildings that we visit. We want to preserve them as best we can for future explorers. We've spent loads of evenings down the local library finding out about this fantastic building, why would we want to damage it?!
There is normally a way in without breaking any laws or locks. Sometimes this can be obvious, such as a missing door. Normally it is a lot harder and will involve a lot more thinking. "Is there a service tunnel that goes into the building?" "Is there an open window on the top floor?" "Is there a ventilation grill missing, that's big enough to squeeze into?".
Again, this is half of the satisfaction of exploring –
finding
a way in without causing damage. Due to the amount of hours that explorers put into finding access, we will never publish access information on a particular site.
Sometimes objects on the site can facilitate access:
Kids are permanently plugged into Google these days, by publishing access details online it would be advertising a free place to hang out, drink, smoke, spraypaint, and start fires. It would also inform the security company in charge of the site the exact place to seal off. Vandals, and general bad guys are however often a blessing in disguise. If you find a site completely boarded up, try visiting it the following week. Chances are some low level criminal would have been to rip off a window board for you.
I get so many emails every week from A level photography students asking about access, and most are disappointed when I am reluctant to give them detailed information about access to a particular site. Unfortunately it is inevitable that when they show their lovely photographs to the other thirty teenage classmates, there will be questions and interest in "how they got in" probably more so attention than the actual photograph.
One of two things happens when non-explorers frequent abandoned buildings:
One: The owners of the site notice, and lock it down, tightening security.
Two: The building quickly becomes vandalized; normally this quickly leads to arson and the building being razed.
Apologies if this seems pessimistic and paranoid, but it's just my personal experience:
Holland House, burnt down shortly after I visited:
http://www.newmarketjournal.co.uk/news/local/arson_attack_on_derelict_stables_1_548096?action=logout
Westmill foods burnt down shortly after I visited:
http://www.cambridge-news.co.uk/Ely/Factory-to-be-demolished-after-arson.htm
Wilson Connolly Logistics, Hescot Furniture, the Cane Hill Asylum, many other places have all gone the same way, since non-explorers have found ways in.
Without mentioning any specific access points, I can share my experiences and tips of certain obstacles:
5.2 Fences:
These are used by us humans to mark our territory. It's way more convenient to erect one of these than to constantly go around the perimeter urinating. Often these barriers are more psychological than physical. Even an average able bodied person can get over a 6ft wall or fence in a few seconds, they are meant as a deterrent than an actually physical barrier. If they literally didn't want you to get over it, it's be 50ft tall, and electrified. When salmon farmers pen their fish in the ocean they corral the fish then use a bubble curtain to keep them penned in. There is nothing stopping the fish physically swimming through it, it just see's the barrier and assumed it to be physical.
So you're ready to climb the fence? Why bother, the gate's open.
Again this is back to the psychology of the fence. It will look big and imposing to the public, and most people will stroll by assuming that it's doing a pretty good job. Whereas in fact, I'd wager that 90% of the fences that we deal with, are not complete.
A common practice is to fence off the most visible side of the site, and leave the other sides that are out of public view completely open. Walk the perimeter, is it complete? Didn't think so:
Often new fences, or fences on sloping sites will not go all the way to the ground. It is far easier to roll under a fence than climb over it. Oh, and I've found it's definitely easier to roll than to crawl, or Lambada.
Types of Fence:
5.3 Chain link:
Very common, can be erected by semi skilled workers quickly and cheaply from a roll. These are extremely climbable. If you cant get your feet into the holes, take your shoes off and climb it in socks. One of the great things about this fencing is that it's very common in public parks, around basketball courts etc. So you are free to practice to your hearts content before tackling a 'live' one. If someone asks you what you are doing, you can smugly tell them that you're simply practicing your climbing. It's legal.
Through practice you will get a feel for it, the way it flexes in the middles, or how its rigid around the upright posts. Do the corner posts have supports at 45 degrees which you can walk up? You're half way to the top already.
Of course if you can avoid a climb at all so much the better. These will often have human sized holes already cut into them by previous visitors.
5.4. Barbed wire:
This is normally used on top of the chain link fence as an added deterrent. The easiest thing of course is to avoid it, is there any sections missing? Failing that you simply have to climb as high as you can and step over the wire. If you don't feel confident of this, it may pay to bring a slab of blanket, or carpet to lessen the penetration of the barbs. Try and aim for taught barb wire, as it's more predictable than loose wire which will sway about as you climb.
Unfortunately on this occasion, I became snagged on the barb wire entering the site. Try and avoid this, it's quite embarrassing talking to a security guard whilst he can see your underwear.
5.5. Razor Wire:
Barbed wire's evil twin brother. Whilst it's not illegal in the UK, it's use is discouraged by the Police after a number of burglars injured themselves on it, and sued the householder. I've personally never come across it on a derelict site, I would recommend treating it like barbed wire, but with more caution.
Note: I have assumed the above sharp wires simply line the top of the fence. I have seen it in some extreme cases used in coils. I have absolutely no idea how to tackle it so wouldn't want to comment on it.
5.6. Palisade fencing.
This is becoming more common, and to be honest is pretty effective. They consist of metal 'spears' usually topped with 3 razor sharp spikes each, and range in height from 6ft to 12ft. Assuming there are no gaps, the easiest thing is to go
through
the fence. Walk the perimeter and run your hand along each palisade, are any of them loose. It only talks one broken fixing on the bottom rail to be able to pull the spear to one side and step through. Always remember to put it back as soon as you have passed through, to avoid alerting anyone to your presence on site, and to the access.
If there's nothing for it, you're going to have to go over. The horizontal rails are always located on the 'inside' so no help there, and the vertical members are carefully placed so you can rarely wedge a boot in. Bar Olympic gymnasts, most people wont be strong enough to hoist themselves up with their upper body only, so how do you do it?
A makeshift 'grappling hook' can be made from a 1ft length of broom handle, and a length of knotted rope. Tie the rope to the handle, throw over the fence. The handle will wedge between the palisades, leaving you to climb up and over. When you get to the top do not forget to grab your climbing device and drop down to the inside. Do not leave it hanging there! I would avoid using the carpet / rug trick on these, it will just weigh you down.
This method should take an average explorer around a minute. This can be very significant, as one site which I have visited was security patrolled every 9-10 minutes, we had to time it perfectly to get our whole group up and over without being spotted.
5.7. Electric Fences:
I'll mention them here, as they do exist. I've never know of one on a derelict site as they require so much maintenance, and electricity. In the unlikely event that you come across one, try and avoid it, find another way in.
6.Security:
A lot of sites, even derelict ones have active security. Even more sites have signs up saying that they have security, but in truth they stopped hiring that company years ago, but the signs are still up.
Why have security at all? For several reasons: Firstly is the fear that people will get in, injure themselves, and sue the owners. Secondly the site may be up for development. Take Severalls Hospital, they are planning to put 1,500 homes on the site: If we said conservatively £175k per home, the site all of a sudden becomes worth £265m, that's definitely worth guarding.
Every site is different, but there are generally two levels of patrol that the owners can opt for: 'On site' where there is a security presence 24 hours a day. They will often hole up in portacabin near the entrance, and will probably patrol once an hour, on the hour. Depending on the site this could be a walk around, or a drive around in a van. It's definitely worth watching the site for a couple of hours before you attempt the fence. You can get a good idea of how often they patrol (it's normally on the hour, and the half hour), where they go, how long the route takes, etc. Also if they have dogs...
The second level of security will be where a guard has say 10 sites to cover, and will drive to each in turn, once, twice, or thrice a day. These guards generally have less commitment to the site, and will be more interested in ticking the box that says they've visited and checked the perimeter.
6.1 Guard dogs:
I'm talking about the type that are attached to the guards, not the free roaming ones here. A lot of guards have these now, and not really for the reason you think. Security dogs don't drag you to the ground by your arm, that's police dogs. Police dogs are extremely well trained, and you will be given 3 clear verbal warnings by a trained officer before they are allowed to release the hounds.
Top tip: If you do stupidly decide to run for some reason from a Police dog, don't dart around cones, scrabble through a tube, and over a seesaw, they're trained for that.
It is far more likely that a security guard will bring his or her pet dog along for company. Unfortunately even the yappiest of poodles has an excellent nose, and will easily sniff you out. No matter how well you hide, they
will
find you! On the upside,
most
guards won't let their dogs inside any buildings with broken glass in.
6.2. Dealing with security:
First tip: Don't get caught and you won't have to.
If you do get caught; don't let it ruin your day, it happens to us all, and if it doesn't then you're not trying hard enough.
As soon as you become aware that someone may be onto you you have three options:
Hide:
Only attempt this if you have somewhere to hide, obviously. If you get caught whilst hiding, it will be ten times more embarrassing. Again, only attempt this if the guard is dogless. If you do hide, be prepared for a wait, a good jobsworth will hang around for up to 20 minutes, which will feel like a lifetime in a dusty cupboard. Especially if you need to cough / sneeze / fart / burp.
Come Clean
– It's a fair cop guv' you got me. This is often the best option you've been busted red handed. How you handle the situation is entirely down to you and the guard. Be polite, protest your innocence that you've done anything wrong. Show them how artistic your photos are, and explain that you've caused no damage etc. The worst they can (legally) do is to ask you leave. If they do, then leave, it's only courteous. They cannot hold you under civilian arrest, as you've not committed a criminal act. If they try - walk away, leave the site. If you feel at all threatened by them do not hesitate to call the police first.
You do not have to give them your name, or any details about yourself.
If they ask you to delete your photo's – do not, under any circumstance delete your photos! If any police involvement happens later on you can be charged with destroying evidence. Your photo's have accurate time stamp information in the Exif data that proves where you were at certain times. If anyone else deletes your photographs they have committed an act of criminal damage, this also applies to police officers.
Last Option:
Run! This is our natural instinct; however it is a absolute fact in security guards minds that only guilty people run. If you're going to run you've got to be confident that you're going to get away, because if they catch you, and you've made them out of breath, then they will not be happy.
Ninjalicious provides a great formula in his book
"Access All Areas"
(See further reading) on how to calculate if you can get away. Take your running speed in kilometres, and subtract that of the guard. This can be calculated using their circumference, age, and footware). Give your knowledge of the site a mark out of ten, and subtract what you believe the guards to be. If you end up with negative result you should stay put. If you end up with a positive number, you should stop doing sums and start running.
7.Dangers
7.1 Asbestos / Lead paint / Anthrax
Asbestos was used widely in construction right up until the 80's. If it's left alone it's fine, if it's disturbed then you run the risk of breathing it in. There's not much you can do to avoid it, it's found in insulation, floor tiles, plasterwork, everywhere. As long as the place is fairly well ventilated, and you're not kicking up dust you should be fine.
If you're going to enter an enclosed space, such as a service tunnel, you probably won't be fine:
Always protect yourself with a face mask. These come in P1, P2, and P3 grades. The first two are for general DIY, only a P3 mask will filter out the tiny asbestos particles. I prefer the disposable type, around £9 from home base:
7.2 Poop
Pigeons love derelict buildings too. They also love to poo. It's horrible stuff, and contains more bacteria than I would like to think about. Try and avoid it, but if you do get it on your hands, was / sterilise them as quickly as possible.
7.3 Floors / ladders / Stairs
Always test floors before trusting them with your full weight. Where possible stick to the edges of the rooms as these are generally more solid. If it's a timber floor the positions of the joists below will be indicated by rows of nails, where possible stick to these. Use the same rules for ladders, inspect rungs, and test them before trusting them. When doing any sort of climbing, a general rule is to have 3 points of contact at any point. i.e. one foot and two hands. If you slip, the chances are that you will be able to support yourself from three points of contact.
Sometimes the stair treads may be missing from the flight completely. This does not mean that you cant climb the handrail:
7.4 Undesirables / Residents
At some point during your Urbex career you are fairly likely to bump into someone up to no good. Unfortunately a lot of society see derelict buildings a 'law-free' refuge. The best tactic is simply to give them a 'thumbs up' as soon as you see them. This lets them know that you're not there to cause them trouble. Personally I'd avoid anywhere that has evidence of recent drug use, like the plague.
I feel bad putting 'squatters' in this category, as 99% of them are lovely people who chose to live an alternative lifestyle to the norm. When you encounter squatter be courteous, and polite. Remember that you're visiting their home, so act like you would normally in someones home; you wouldn't normally be snapping away at someones sleeping area would you?
If you bump into someone doing damage to the building, it's your call as to if you want to report it. Just think about how you are going to explain your presence there.
Unfortunately derelict structures can be used as dumping grounds for all kind of unpleasantness . Mafia Tunnel, Ukraine.
7.5 Cuts, burns, etc.
It's likely that you're also going to get scratched an cut throughout your Urbex life. In fact it's a certainty. It can't be avoided just minimised. Common sense is your friend; watch for bits of glass still attached to the window frame, and rusty nails. Always treat any electrical fittings / cabinets as live, until you are definite that they are not.
At the time of writing I've been on over 100 explores and have only needed one hospital visit as a result of exploring. Whilst walking past a shed, I somehow walked into a metal rod which was protruding from it. It entered my ear canal, ripping it down the entire length, before piercing right through it, just 1mm away from my eardrum. Seconds later my ear was welling with blood. Be careful out there, you never expect it to happen to you, but it has to happen to someone.
7.6 Falling from height:
This is probably the most likely way that you'll die urbexing. Even if you did cut off your hand, you'd probably still live. If you fall off a water tower you have no chance. It's the main cause of death in the construction industry too.
8.0 Draining
There's no getting round it, draining is dangerous, really dangerous. All drain functions are automated, and have little to no human input. When an attenuation tank nears capacity, it will trigger an overflow sensor; this will release tens of thousands of gallons of waste water into the system without warning. Even the best designed drain doesn't take into account explorers wandering through them.
There are three types of drain below our cities:
Foul water sewers - Which take pure sewerage, personally I avoid these.
Combined sewers - Which combine sewage with storm water, used to 'flush' out the system
Storm water sewers: The most pleasant of all drains. However, through personal experience these are not always as 'pure' as they are made out to be. Wandering through them you can find evidence dating back to the Victorian era of dodgy house builders simply tapping their waste pipes straight into these, instead of expensively plumbing it to the foul sewer. You have been warned.
Decent drains are inherently harder to find than derelict buildings as they are located some 30ft below your normal eyeline. You will most likely find them by wandering past their outfall. Another good method of finding them is to look at cities on Google maps, and look for sudden starts or stops of watercourses. A city has a massive surface of hard landscaping that water runs off, it has to go somewhere.
It's very easy for harmful gasses to build up in drains, especially in the less ventilated areas deep underground. I've always been paranoid about naked flames / sparks in these environments because of this. If any member of your group starts to feel nauseous, dizzy, of light headed, you should all move to a better ventilated area immediately. I can't condone taking a budgie in a cage down in any circumstances.
Always watch your footing, even more carefully than you would in a derelict building. Victorian sewers are built entirely of brick. The surface that you walk on would have been polished to a mirror like finish by the action of water flowing over it for a hundred years. Normally its then coated in a fine layer of highly lubricating algae. There will often be 'sumps' in pipes, up to 20ft deep to catch debris. Assume that you will fall down one of these with every step you take where you cant see the floor.
So, all these dangers, why do it?
When I was a child, we always used to talk about how cool it would be to have secret tunnels between our houses. Well through draining I have fulfilled this fantasy. Imagine walking the streets of the city on a busy Friday night, when the streets are filled with loud and rowdy people; Then effortlessly popping a manhole, and dropping into your own silent underworld. A network of tunnels as big as the city itself, inhabited only by you. You can walk anywhere you want, alone, only with a damp musty scent in the air, and the feint sound of traffic rumbling above you. It's pure exhilaration.
9.0(Not) taking souvenirs
This is just a reminder of what I said in the first few paragraphs:
"We take nothing but photographs, leave nothing but footprints"
I'm sure that if you've read to this point then you're not the type to take souvenirs as some kind of 'proof' that you've been somewhere. It's a criminal act, if you're caught; you will have the metaphorical book thrown at you, quite rightly. Even worse than breaking the law, you'll ruin the experience for future explorers. Imagine if everyone that went before you had swiped that retro looking phone, or the sign for the Xray machine, your experience wouldn't have been nearly have fulfilling, would it? Lecture over.
10.0 Who to take with you:
It's probably a bad idea to go exploring on your own. If you do, and I often have, just use common sense. Leave a loved one your exact location, including entry points, and times that you expect to be in and out. The last time I went on my own I ended up in hospital, and it's no fun not having someone to share that with.
I cannot stress how much trust you place with your fellow explorers. Even in just meeting them: I mean, you're going to meet a complete stranger from the internet, in the middle of the night, at the abandoned mill? I'm sure when I was younger that was something my parents told me not to do.
On my very last explore I was being shown the access by a complete stranger I had met for the first time, just minutes before. He pointed a torch down a manhole and said "just drop down there." The torch didn't even seem to light the bottom; it was just a well of darkness. You really have to trust someone before throwing yourself (a storey height at least) into something like that.
Explorers are geeks. I know that any explorer that has invited me out has sifted through my previous reports and probably my Facebook, Myspace, Twitter, etc. Social networking has enabled us to build a picture of the whole person before you meet them. That's not to say Charles Manson couldn't have created a nice Facebook profile, with pics from 'Corfu '06', so be careful.
Girls are good to take if you aren't one already. Security are always more sympathetic to them for some reason. I know one explorer who takes his son, although having a child for the sake of Urbex is beyond my level of commitment for the hobby. I've known people to take dogs with them, to provide a "I came in here looking for my dog" excuse. Although I believe this is too risky on anything but a rural site (broken glass in paws, guard dogs, etc.).
Do you trust you fellow explorers enough that if you were about to step on a bit of rotten floor they'd grab you? If you don't, then I assume you're content with falling four storeys because someone was too shy to say anything?
10.1Group size:
Exploring with one is probably a bad idea....
Exploring in a pair is great for low-risk sites and where stealth is paramount.
Exploring in a trio is ideal. If one person gets injured, one can stay with them, while the third goes for help.
Exploring with 4-6 is probably the most common group size for large sites. Just make sure you keep out of each others' shots!
Exploring with 7+ is pretty unfeasible on 99% of sites, but is feasible on huge sites:
10.2 Age:
Explorers come from all age groups and none are any 'better' than others. An 18 year old is more likely to be able to scale a wall, but a 45 year old is more likely to find an easier way over. An 18 year old may have all of the energy for a epic industrial explore, but a 45 year old is more likely to have a rich knowledge of the machinery & tools. I got into exploring around the age of 24, and have generally found the most common age group to be 28-48, although that is just my experience.
10.3 Etiquette:
Be nice to one another; it's not hard. I find that explorers generally bond quite quickly, probably due to the risky nature o the hobby and the number of anecdotes we are all keen to share. If you see someone struggling to get out of a manhole, pull them up. If you see someone struggling to get over a fence, throw them over, I'm sure they'd do the same for you.
Remember you're working as a team: if someone's torch batteries fail, and you have spares, lend them. Always take along more food and drink than you think you'll need and share. Make sure everyone has washed their hands with alcohol rub first though. Why not print off a few more copies of that asylum layout to give to your fellow explorers? It's only courteous to offer petrol money to the driver. And finally if someone shares information, or even a whole explore with you, offer to do the same for them in return. If people only take, then the community doesn't function.
10.4 Fear:
I've put this section in with "other explorers" because they can be the alleviation of fear, or the accelerators of fear. If you go into an explore completely confidently, but all of your exploring buddies are shaking with fear, it will rub off on you. For the most part, exploring with others will be a lot less scary than if you were doing it on your own.
I've always held the view that if one person really is too uncomfortable with doing something, then no one does. If you come to a challenge, such as jumping between first floors to access another room, and someone was uncomfortable with it then it would end there. Encouraging them to do something that they are really uncomfortable with will always end badly.
As a group you should know your weaknesses. You can only get over a wall that can be tackled by your worst climber. You can only run from security as fast as your slowest runner. The sooner your group can accept its weaknesses, the sooner you can play to your strengths, and avoid situations that expose your weaknesses.
11.0 Europe:
More and more explorers are now turning to Europe as an exciting way to find more sites and braoden their horizons. I'm one of them. Frankly the standard of site in Europe is so much better, and lets face it - easier.
As an example: This is in a town centre, and has no front door.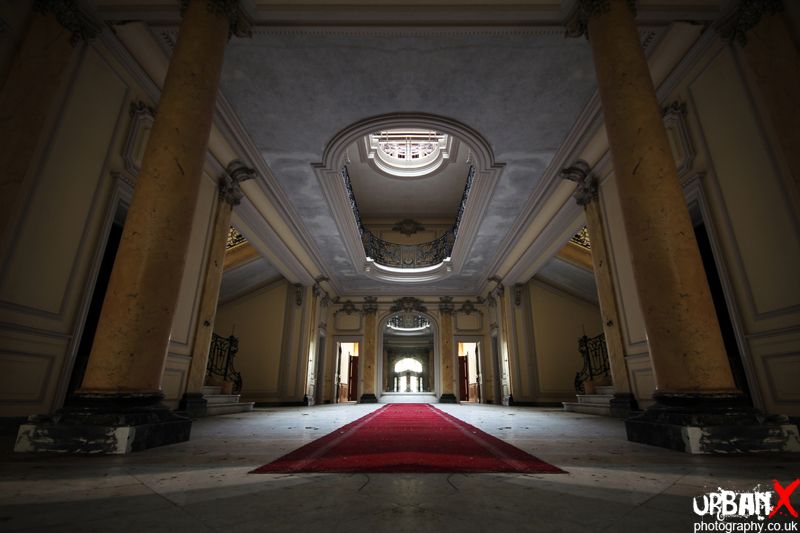 Can you imagine how long that would last like that in the UK?! Their whole culture of more respectful ness is apparent everywhere. Most countries in Europe allow drinking at the age of 14, but you rarely ever see a drunk.
11.1 Costs
At the time of writing, a car on the ferry costs under £100 (way cheaper if you get a deal in advance) and a double room in a hotel is about £40. So assuming you have a car load of four of you go over for two nights, you're looking at £65 for 3 days. I can blow that in a night in Cambridge before I'm even tipsy.
11.2 What to take
Most European countries insist you have a hi vis in the car (which you'll have as a good urbexer anyway) as well as spare bulbs, a warning triangle, headlight deflectors, and a couple of breathalysers. You'll need a GB sticker on your car too if there isn't one on your number plate. If you don't have any of this don't worry, they sell it all on the ferry.
Otherwise you'll need your passport (obviously) and whatever extra clothes / cosmetics you need. I've found Iit helpful to overpack socks. You can never find them in your rucksack, and a clean dry pair is pure bliss when you get in.
11.3 Law
The law is different in every country, and I'm not a lawer. So this is going to be a short paragraph.
Try not to get caught.
I know trespass is black and white illegal in Germany, but have never known anyone to actually get charged with it, even if they've been caught. Imagine how much beaurocracy is involved with charging a foreigner for such a petty crime.
11.4 Posting European reports
European explorers are fastidious about keeping sites secret from undesirables. Nearly all sites will be codenamed, either something like "Sanatorium P" or they will make up a name "Chateau Des Singes" (Castle of monkeys). This is obviously to stop the sites becoming trashed so quickly, and it works. It can be really frustrating to research at first, but Europeans are actually quite free with knowledge once they get to know you. Often a little research will also confirm a location. I.e. if you've found the same site called "Chateau P, Des Singes, and Chateau B" and you find a famous botanist with a surname beginning with B, who lived in a town beginning with P, you've found your target.
I would say respect this privacy, if a European explorer has seen you name their favourite site, they will be very reluctant to share info with you in the future. If you stick to their conventions, you'll be accepted.
12.0 Balance:
Good balance is an excellent skill, made even better by the fact it doesn't take long to master. Seriously an hour of balance practice every now and then will change your life. You'll think of the obvious advantages with good balance - being able to walk across a beam. Yes it will help with this, but so much more. When you balance you are completely aware of your whole bodies position, where each limb protrudes, and more importantly where you are exerting your weight. You'll also lean about friction of different materials, and how to cope with slight cambers. You'll not only be able to walk across joists as if they are solid floors, but also be able to gauge the slightest deflection, or moisture lubricating the surface beneath your sole.
But yeah, being able to walk across a thin beam with confidence will open up hundreds more sites. It would almost seem super-human to a non balancer to be able to walk 12ft across a pipe. Trust me, its possible for anyone to master after an hours practice. A lot of ditches will be crossed by a pipe before they have any kind of bridge. Imagine being chased by security to a wide, water filled ditch, trust me there are loads ofg them around the fens. You face a 12ft walk across a 2" water main pipe, or a half mile run along the ditch to the next proper crossing. You'd wish you'd have listened to me…
If you get really good, you may even be able to walk short distances along fences, which again, will get you to places with the minimal of climbing.
How do you practice? Any way you can. A lot of urbexers are into 'slack-lining' a form of tight rope walking, except the rope isn't tight. It's considered harder. Where possible, walk along kerbs especially where they are slightly raised on both sides. If you can walk a kerb 4" high, you can walk one a mile high. I live over two miles from my local pub, but I have only ever walked there, and back on kerbs. My biggest tip would be to look ahead, and not where your feet are.
13.0 Mapping
…Coming Soon
15.0 Urbex Humour:
15.1 You know you're an urbexer when...
You are on first name terms with the security at the best sites
When you get excited at seeing the word 'Derelict' in a newspaper
You have heard of/ have met "The Hammer" of West Park
You pass by buildings that are still in use and think 'god that'd make a bloody good explore'
You can identify all different types of security fence, to really nerd out your friends (or write an FAQ about it!)
Security guards have more photos of you than your parents do.
You can say you got chased by dogs and got away
You wake up covered in bruises, but smile when you remember the explore where you got them
You get a semi when you see fresh scaffold.
You sleep somewhere that a tramp wont even rest his head.
You get a shiver down your spine when you smell damp and mould.
Your exploring buddies get arrested and the Police ask where you are by name
15.2 Urbex games
On a recent long urbex roadtrip I pioneered a game to lace the name of an urbex site into a film / song / band title.
i.e.
Dragons Denbeigh
Lillesden school for Girls just wanna have fun
Pyestock and 2 smiking barrels
Gone in 60 Severalls
Die Hardy Hansons Brewery
Then there's always Urbex charades….
16.0 Glossary of urbex terms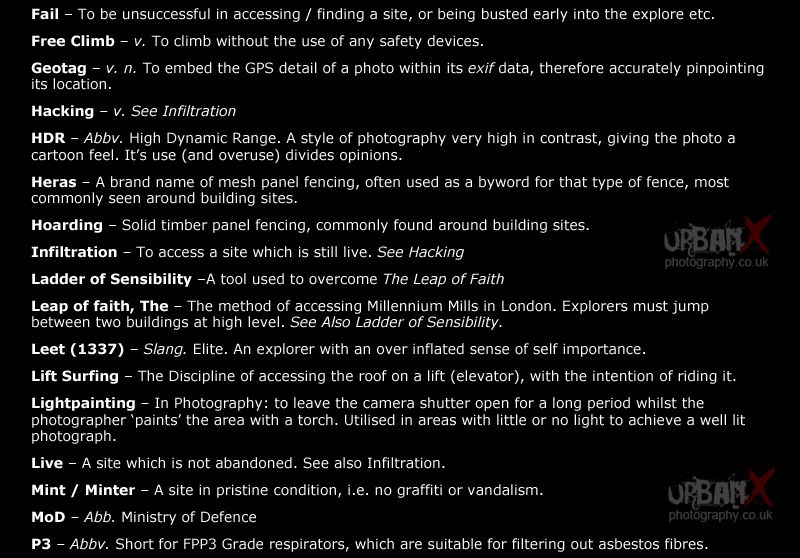 To Be Continued...
UrbanX does not take any responsibility for your silly injuries.